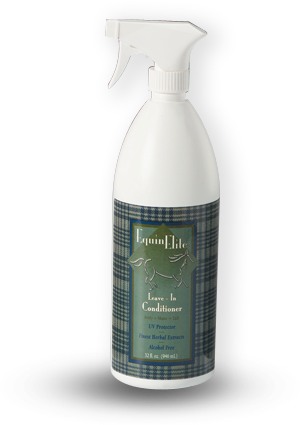 The Price: $14.99 for 32 ounces
The Verdict: YES :)

As most people know, I have Arabian horses and if it's one thing that Arabian people like is good grooming products. I have tried quite a few. Healthy Hair Care, Eqyss, and the list goes on.
I actually originally won a free sample of the leave in conditioner at an equine expo. I liked it well enough, so I went ahead and purchased the 32 ounce bottle of the conditioner. Last week, I went ahead and sprayed my horses down (especially the dry manes & tails) and I noticed tonight in my extended grooming routine that they are still soft and not snarly.

Seriously.
My horses live outside. They are prone to witches knots and everything else, but this stuff has been pretty incredible.

The only downside for me is that it can be a little more slippery to bag a tail that has been freshly coated. I will just have to be more effective in my efforts next time.
So if you are looking for a high quality product, I would recommend looking at the EquineElite line of grooming sprays.